KueIt 3.0.2 available now
May 29, 2020
We are pleased to release version 3.0.2 of KueIt. This version features less CPU and memory usage than previous versions, along with several bug fixes and better channel support. KueIt can now output on all audio devices, even 2 deck controllers.
---
Replacing RCA cables with RCA Jacks on Technics 1200 Turntables
February 20, 2020
In this video we show you how to modify your Technics 1200 by adding RCA jacks to the bottom of the turntable to make it easier to replace your audio cables in case they ever go bad. Without this modification, you will need to always open up your turntable and solder your wires every time you need to replace your cable because of a short.
---
How to make your Technics 1200 turntables weigh less so they are easier to transport
February 5, 2020
In this tutorial we are going to make our Technics 1200 turntable lighter by removing a piece that's no longer needed. This piece was originally added to the Technics 1200 to help isolate the turntable against vibration when playing real vinyl in loud rooms. When playing DVS software like Serato or Virtual DJ, the audio no longer comes directly from the vinyl. This eliminates the possibility of having a feedback loop. This means that this isolation piece is no longer needed, and without it, your Technics 1200 is now 6 pounds lighter.
//php comments_template(); ?>
---
KueIt 3.0.1 available now
December 19, 2019
We are pleased to release version 3.0.1 of KueIt. This version includes support for the new macOS Catalina, along with improved MIDI support, bug fixes and optimizations. We recommend all KueIt 3 users to download this update. KueIt 2 users will need to purchase an upgrade license.
Not a KueIt 3 user? Get KueIt 3 Now!!!
Buy for $99.99
Upgrade for $49.99
Read more at www.KueIt.com
//php comments_template(); ?>
---
KueIt 3 – Redefining What A Sampler Is
May 21, 2019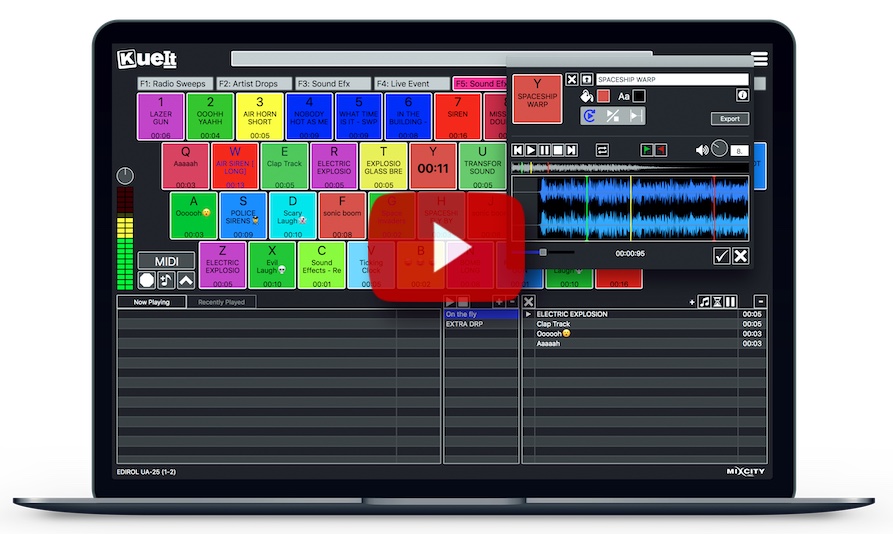 The ultimate real-time audio playback software uniquely designed for your sound effects, audio drops & jingles. Access 310 audio clips for instant simultaneous playback at the touch of your fingertips. It's as easy as a simple key press or the click of your mouse. Or use a MIDI device to control KueIt. Create and store your own library of audio clips for use in playback. Check out our latest KueIt features:
---
Useful Promotional DJ Merchandise Ideas
Events come and go. Such is your life as a DJ, and such is the life of event attendees. You will undoubtedly make some serious impressions with your set and stage show. So what happens after the party? Hopefully there will be social connections and more fans made. But giving away memorable DJ merchandise can help keep your brand and namesake visible to your audience. Here are a few we think your new fans will appreciate. (more…)
//php comments_template(); ?>
---
JammText 1.3 is out! New email to screen and QR code feature
December 11, 2018
We are pleased to release version 1.3 of JammText. Aside from bug fixes and optimizations, this version includes:
---
Expand Your Wedding DJ Services
October 25, 2018
Wedding DJ services have been in steady demand for decades. They're the lifeline of the wedding reception. And, they're one of the key sources of celebration memories for a couple's special day. Providing musical entertainment is a core service to offer, but you can expand your business by offering other necessary services that won't take up too much more of your time or money. (more…)
//php comments_template(); ?>
---
KueIt T-Shirts now available
October 24, 2018
We have now added our KueIt shirt to our collection on the Skratch Ink apparel store. Different colors and sizes available. Click the button below to purchase this shirt or browse through our other designs.
Shop Now

Like us on facebook at https://www.facebook.com/skratchink/
Follow us on twitter at https://twitter.com/skratchink
Or on Instagram at https://www.instagram.com/skratchink/
//php comments_template(); ?>
---
JammText T-Shirts Now Available
September 27, 2018
Check out our latest addition to the Skratch Ink apparel store… our JammText T-shirt. Different colors and sizes available. Click the button below to purchase this shirt or browse through our other designs
Shop Now

Like us on facebook at https://www.facebook.com/skratchink/
Follow us on twitter at https://twitter.com/skratchink
Or on Instagram at https://www.instagram.com/skratchink/
//php comments_template(); ?>
JammText interactive software
Learn More
Get JammText Today